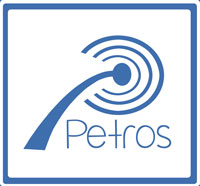 Petros is MyChurch's one-on-one discipleship program was written to give us the tools, as a church, to follow Jesus's instructions to make disciples. A disciple is not just someone who has a relationship with Christ; it is someone who follows him and gives time and energy to know God more and have a deeper relationship with him. A disciple is someone who shares their love of God with others so that they can know him too. It is our desire that this course continues to be passed on and grow exponentially, bringing everyone who goes through it into a deeper relationship with God. Throughout the course, you will be given tools to expand your knowledge of who Christ is as well as new ways to personally experience God on a greater level.
What is Discipleship?
It is walking along someone; challenging them to study and live out the Bible in their life, and to influence others with the gospel. A disciple is a learner. Discipleship is intentional and relational. You will meet once a week at any location for about an hour or so. Discipleship transforms lives to be more like Christ and is taught to you so that you can bring someone else through it. We call it Petros. Petros is the Greek word for rock. Just as a rock thrown into water creates a ripple effect, so this discipleship will create ripples as we continue to share it with others. In Matthew 16:18 Jesus said,"upon this rock, I will build my church". We believe that it is on the solid rock or foundation of who Jesus is and what he came to do in our lives that we build His Church. As Christians, we are all called to make disciples (Matthew 28:19-20). This discipleship material will give us the tools we need to start the process!
Petros is a 32-week discipleship program. The first 4 months you will be one-on-one with your discipler and the second 4 months you will continue meeting with that person but also start from the beginning with someone you will disciple. Don't let this intimidate you. The book was designed to lead you through the process and get you ready for the next step. It is a chain reaction to bring more people closer to God.
Time commitment
Approximately 1 hour a week for meeting with your discipler.
Homework and study times vary.
What to Expect
The lessons are set up to have a quiet time (reading your Bible and praying) at least 5 times a week as well as homework to complete before the next week's meeting.
You will need a New Living Translation Study Bible and a Petros workbook (available at the welcome table at church).
If you have any questions please contact Pastor Tina.