MyChurch Kids – Children's Ministry
MyChurch Kids meet Sunday mornings.  Register or check in your children in the breezeway of the High School.  You will see signs directing you when you first walk onto the High School property.
Pre-School – 5th Grade
We value each child as an incredible gift from God and we have an entire team devoted to teaching your children through hands-on activities, music, group discussion, and age-appropriate activities. Our program is high-energy, interactive, creative, and fun. We strive to provide exciting learning environments so that church will be one of your child's favorite places to go and bring their friends.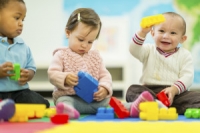 Nursery
We have excellent nursery care in both services staffed by loving and nurturing adults. Available for children 4 months – 2 years.
Vacation Bible School (VBS)
A week long kids program in the summer at Sahuarita Lake Park that provides a fun and exciting learning environment for children 3 years through 5th grade.